Vinyl flooring has become very popular in recent years—and for good reason! It's durable and versatile, beautifully mimicking the appearance of genuine hardwood and natural tile with ease without worrying about the associated cost and upkeep. If you're considering vinyl flooring for your space, we've got the knowledge you need to make an informed decision.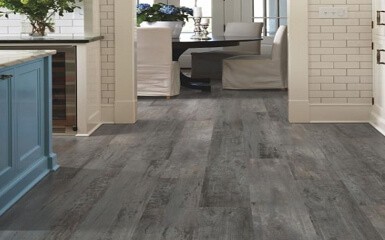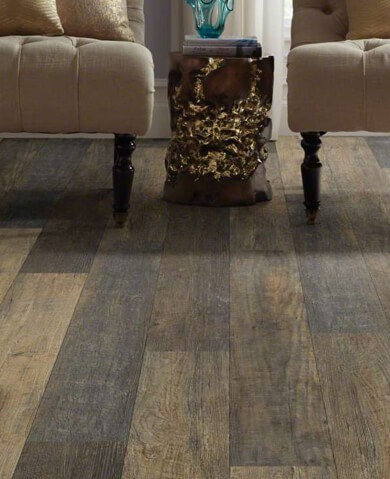 Vinyl flooring is ever changing, constantly evolving with the help of innovative and technological advances. However, the basic components that make vinyl so unique have remained the same over time. Vinyl is layered, with a durable core and a moisture- and stain-resistant surface. It also features a photorealistic wood or tile image, along with nearly identical texturing for added authenticity. Vinyl can be installed in any room, whether above or below ground.
Note that not all vinyl products are created equal. Some are dent- and scratch-resistant; others are not. Some are one hundred percent waterproof; others are not. Keep this in mind when shopping for vinyl flooring.
LVT, LVP, and Sheet Vinyl
Which is right for your home?
Luxury vinyl plank
Luxury vinyl plank (LVP) is designed to look and feel like real hardwood without the cost. It's a stain- and damange-resistant alternative to genuine hardwood.
Luxury vinyl tile
Luxury vinyl tile (LVT) is available in a wide range of stone and ceramic tile looks and sizes that can be arranged however you choose. It's a warmer and softer alternative to genuine tile.
Sheet vinyl
While you won't achieve the same realistic effect with sheet vinyl as you would with tile or plank, it's still very affordable and can limit the number of seams in your floor.
Mon To sat
9:00 AM - 6:00 PM

rabyhome.com. All Rights Reserved.
All content and images are the property of rabyhome.com and may not be reproduced or used in any way without the written consent of the owner.