Laminate Features
One of the remarkable features of laminate floors is how they offer the same great look as hardwood, ceramic tile, concrete and stone at an affordable cost. They also deliver the kind of durability that can stand up to the scratches, dents, and stains of active households with very little care. Laminate floors are popular for the kitchen, family room, dining room, foyer – areas where there's a lot of foot traffic. However, you can install laminate in just about every room throughout your home – that's how versatile it is!
Laminate floors offer every style option to help create the room of your dreams. You can achieve the same great look as hardwood and tile but at an affordable cost. From the distinctive grain of the finest hardwoods to the clean look of pure white quartz, from stamped concrete to urban upbeats in metal – discover the many faces available in laminate floors.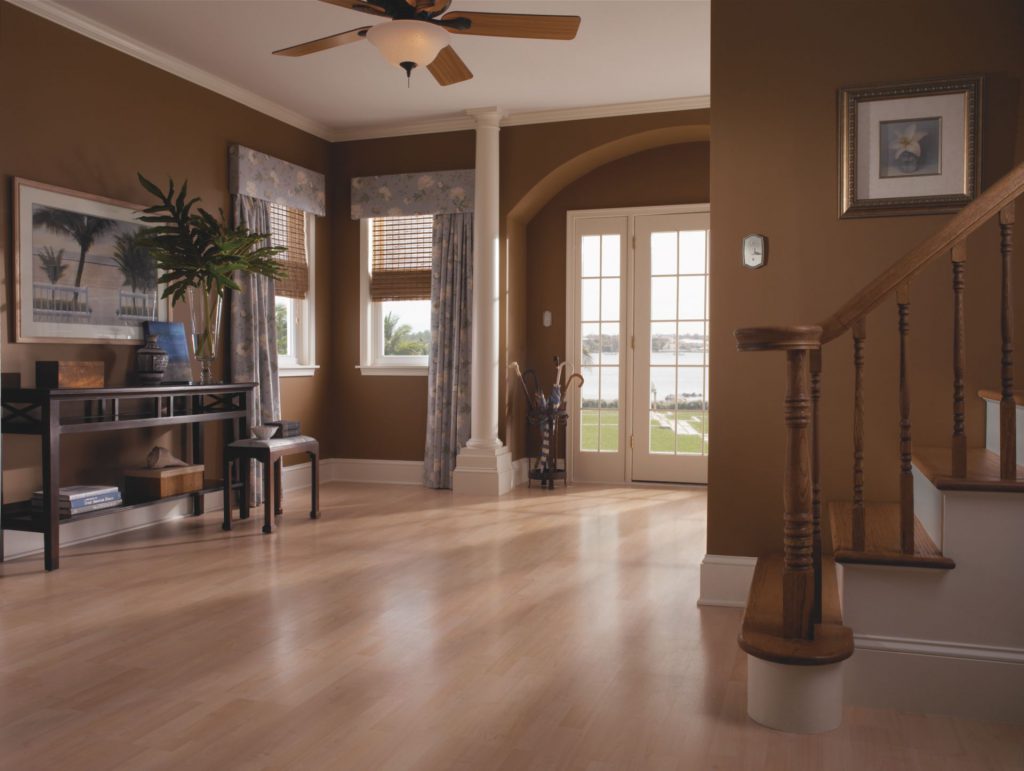 Top Quality Flooring from Brands You Trust
Durable laminate floors will provide many years of beautiful service with low maintenance needs. Get the most out of your laminate purchase by understanding the qualities that make these floors so unique.
Incredible realism – High-definition imaging is used to create strikingly realistic visuals that look exactly like their wood, ceramic and stone counterparts. Laminate floors add greatly to the look and appeal of a room.
Enhanced durability – Laminate's extremely tough wear layer protects against stains, scratches, and scuffs. An invisible UV coating also protects against fading over time, even when exposed to sunlight.
Impressive designs – You'll find stylish features like high gloss and low luster finishes, embossed-in-register printing for enhanced visual depth, surface textures, a range of sizes and many other details that contribute to an individual look.
Easy installation – Interlocking board edges assure a smooth, even surface that's easy to install over existing floors.