Discover timeless & trend-resistant looks when you shop kitchen cabinets in Albuquerque & Santa Fe, NM
When customizing your StarMark kitchen cabinets from Raby Home Solutions, you'll be able to select from a wide range of the most popular kitchen cabinet styles. Explore a few of today's top trends below & find the inspiration you need for your own kitchen design.
Shaker Cabinets
While many more traditional cabinet styles have come and gone, shaker-style is one kitchen cabinet design that has only increased in popularity thanks to its distinctive minimalist look.
Shaker cabinets feature fives segments: a recessed panel in the center framed by vertical stiles on the sides and horizontal rails on the top & bottom. This simple design creates a classic look that has never gone out of style.
You can easily incorporate shaker cabinets into any kitchen design. They're at home with concrete features for a contemporary industrial look. Likewise, you can use them as farmhouse kitchen cabinets in rustic country styles. At Raby Home Solutions, we offer the shaker style in a variety of popular kitchen cabinet colors. Browse black, blue, gray, green & white shaker kitchen cabinets among other color options.
If you do choose shaker style for your kitchen, be sure to prioritize your care routine, as the inset area of your kitchen cabinet doors can accumulate dirt if not cleaned regularly.
Wood Kitchen Cabinets
If color isn't your thing, you can try a natural look with cherry, maple, or oak kitchen cabinets. With their warmth & character, natural wood looks create an informal look reminiscent of a summer cottage.
Wood can also be varnished in different shades, giving you some flexibility when it comes time for refinishing kitchen cabinets. If you install a light wood and later decide you'd prefer dark kitchen cabinets, you have that freedom with natural wood.
Some other considerations to make when choosing a style for your custom kitchen cabinets are the functional features they provide. Will you have spice drawers? Wine racks? Hinges or sliding mechanisms? Aesthetically, what material will you install on the inside of the cabinets? What type off handles & knobs will you use? What's the best color for kitchen cabinets? Will you choose a different tone for your kitchen base cabinets for a two tone effect?
We can help you answer all of these questions and more when you work with our designers here at Raby Home Solutions in Albuquerque & Santa Fe, NM. Selecting your style is only the beginning, but it definitely sets the groundwork for the rest of your kitchen renovation.
Explore Your Kitchen Cabinet Style Options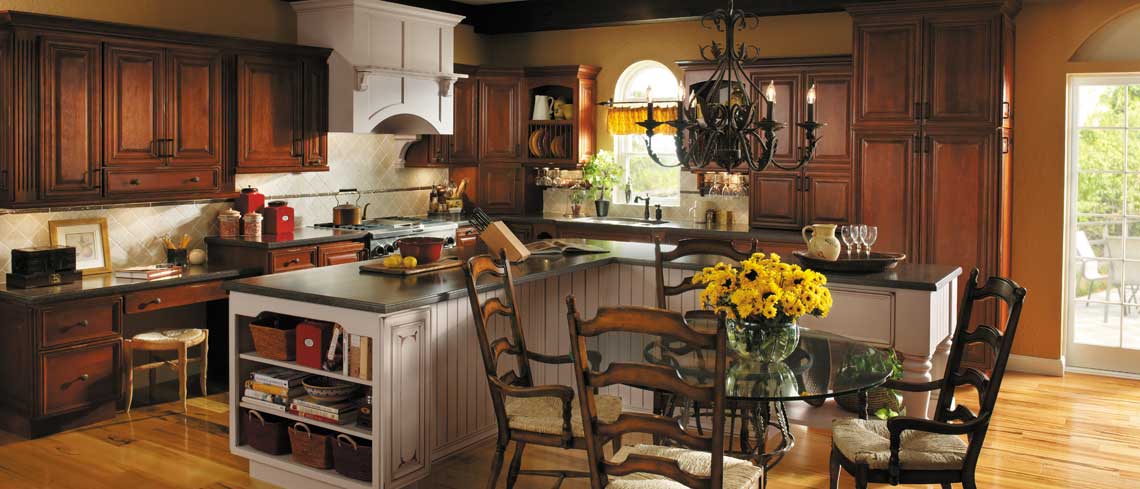 TRADITIONAL
Arlington door style in Cherry finished in Paprika with Chocolate glaze and Old World Distressing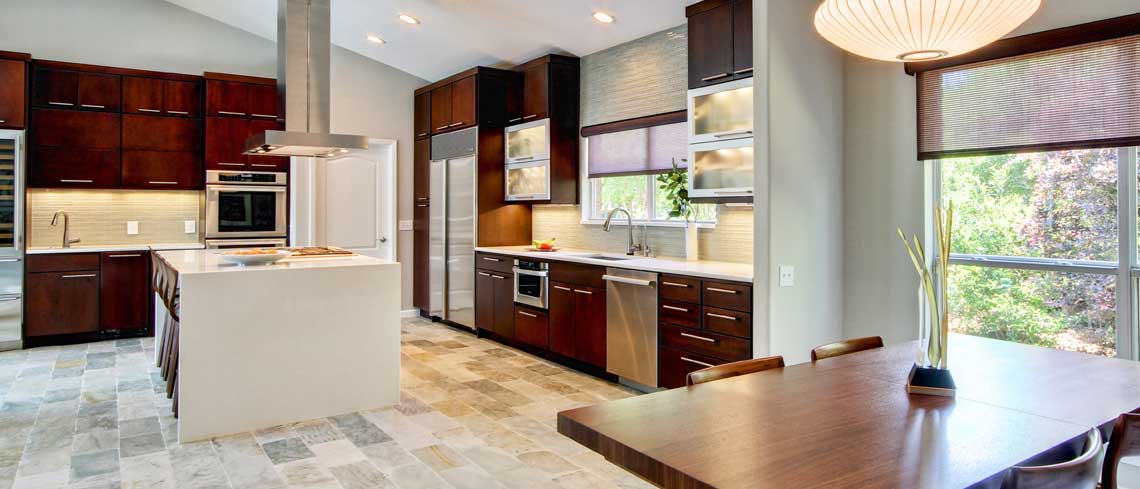 CONTEMPORARY
Tempo door style in Cherry finished
in Chestnut with Ebony glaze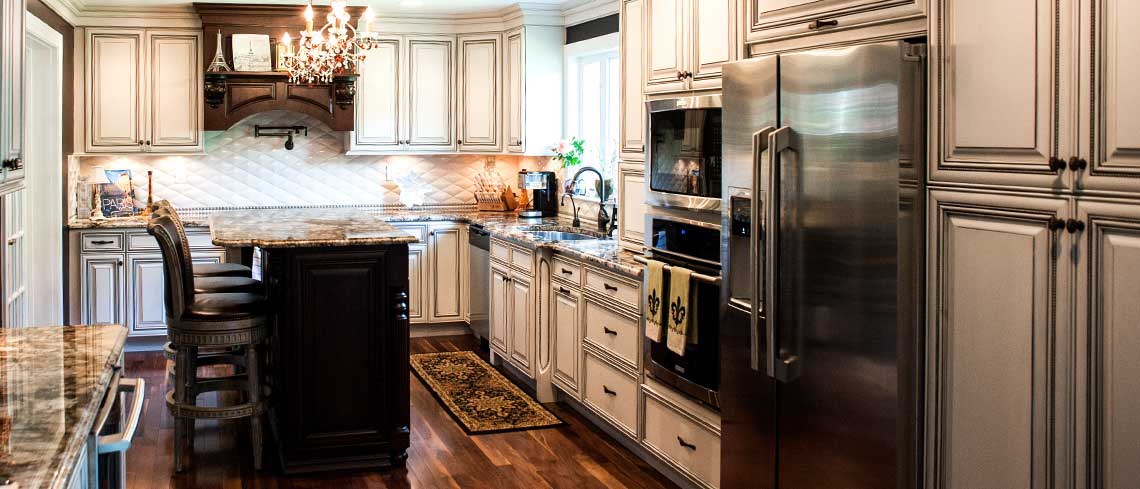 ORNATE
Syracuse door style in Maple finished in custom Macadamia with Ebony glaze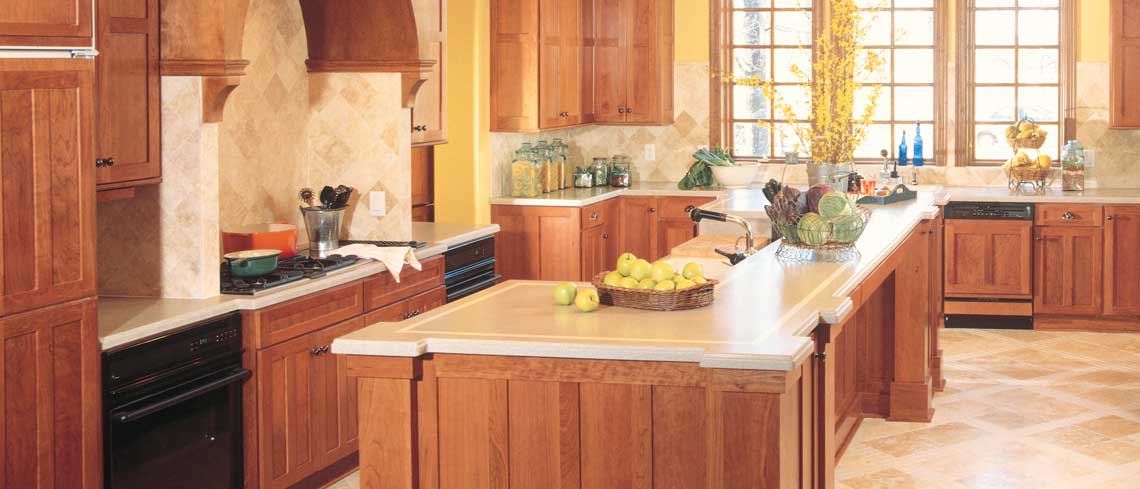 SHAKER
Lancaster door style in Cherry
finished in Harvest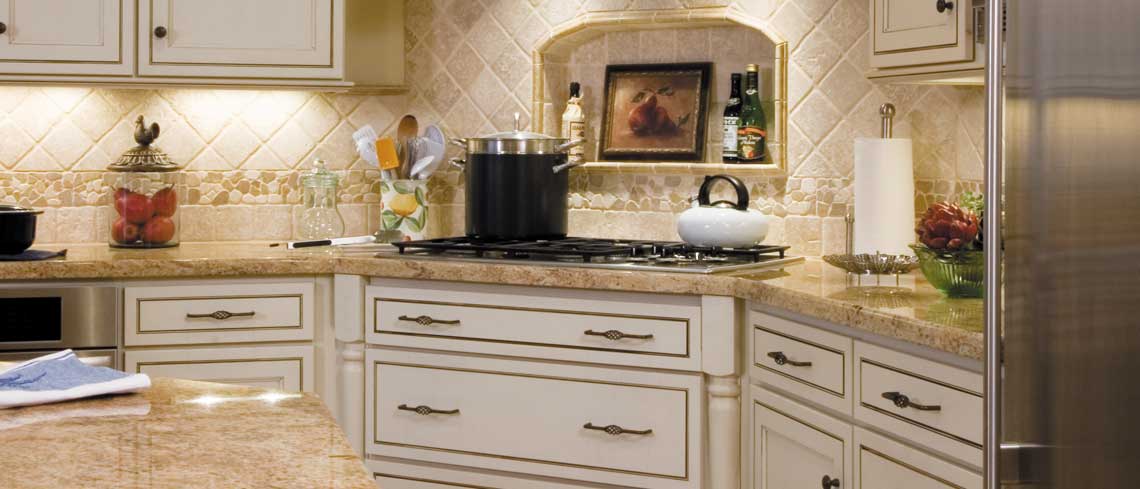 FARMHOUSE
Calais door style in Maple finished in White
with Chocolate glaze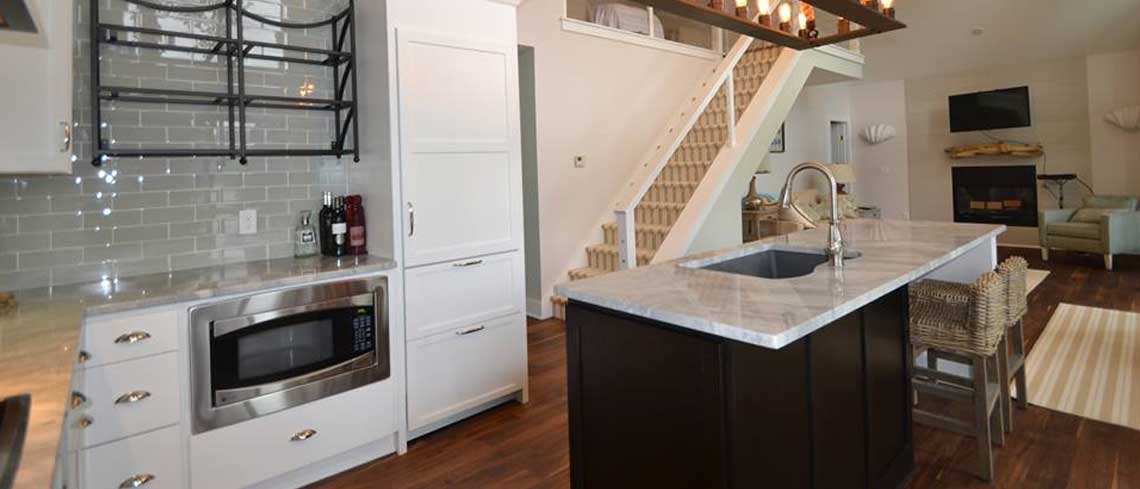 TRANSITIONAL
Bridgeport door style in Maple finished in White