Vinyl Flooring
Choose sheet vinyl when you want an attractive, budget-friendly floor with many style options and very little maintenance. Vinyl sheet offers a variety of looks in wood, stone, ceramic tile and textiles with stunning visual depth and clarity. Luxury vinyl tile and waterproof luxury vinyl plank are enhanced vinyl floors offering greater durability and high-performance features. Luxury vinyl tile captures the look of wood, stone, ceramic tile and other materials with exacting realism. Luxury vinyl plank recreates the look and feel of natural hardwood in authentic board lengths and textures.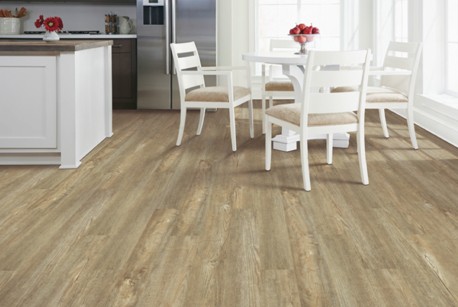 Top Quality Flooring from Brands You Trust
Vinyl flooring today gives you so many more choices in colors, patterns and textures as much as any premium flooring. You'll find luxury vinyl options that mimic natural stone, ceramic and wood. Best of all, vinyl floors can be installed anywhere in the home, above or below ground.
In luxury vinyl tile, you'll see all the vibrant beauty of slate, marble and travertine, to name a few, right down to a textured surface you can actually feel. If you prefer the rich, warm look of wood, then luxury vinyl plank convincingly captures the stunning colors and grain of natural hardwood species. Unlike wood, however, vinyl plank floors are completely waterproof, giving you the freedom to put the look of wood anywhere in your home. Another great feature of luxury vinyl floors is they're designed for virtually no pattern repeat to preserve the look of authenticity throughout your room.
Vinyl sheet is an economical option available in a versatile array of designs, including features like embossed-in-register and beveled edges offering the look and texture of real wood and ceramic tile.
Innovations in vinyl sheet include fiberglass backing for "loose lay" installation without adhesive.
Vinyl's surface elasticity provides a "cushy" give that feels comfortable underfoot and when standing on for long periods of time. That flexibility also reduces the likelihood of dropped items breaking.