Contemporary Kitchen Cabinets
Walking the fine line between form & function, you'll find modern, contemporary cabinet design. This style is all about open space & clean lines decorated sparingly with large, bold embellishments. Contemporary kitchen cabinet doors are dominated by the tones of oak cabinets, cherry cabinets, maple cabinets, and other natural wood kitchen cabinets.
Unlike cozier farmhouse kitchen cabinets or shaker cabinets, contemporary design relies on sleek, smooth & polished surfaces that create modern elegance. Everything in contemporary kitchen design is streamlined. Look for natural materials such as aluminum or glass as accessories, and keep those accessories sparse & simple. Kitchen pantry cabinet doors will often incorporate geometric shapes such as straight lines or plain circles. Two tone kitchen cabinets in contrasting colors can also serve as a geometric element.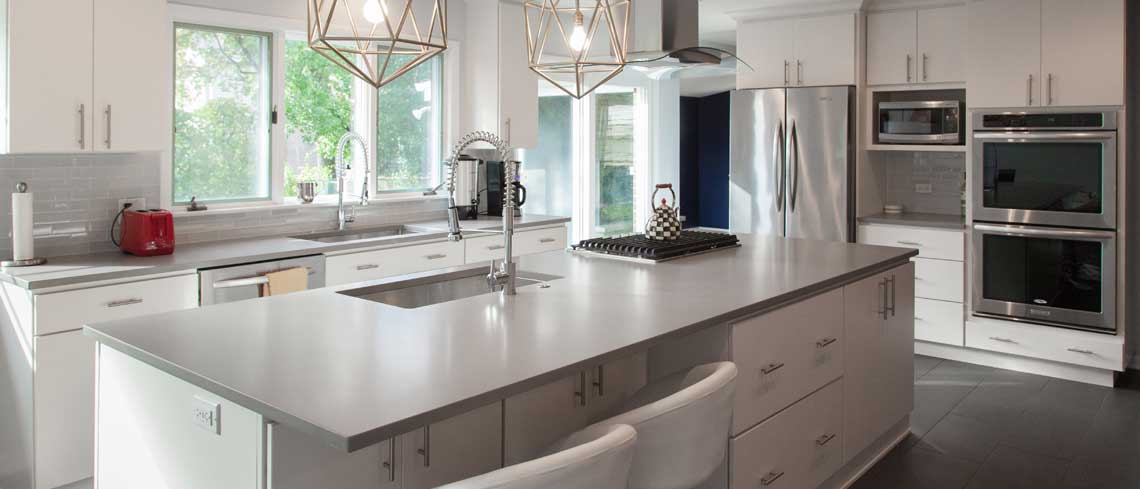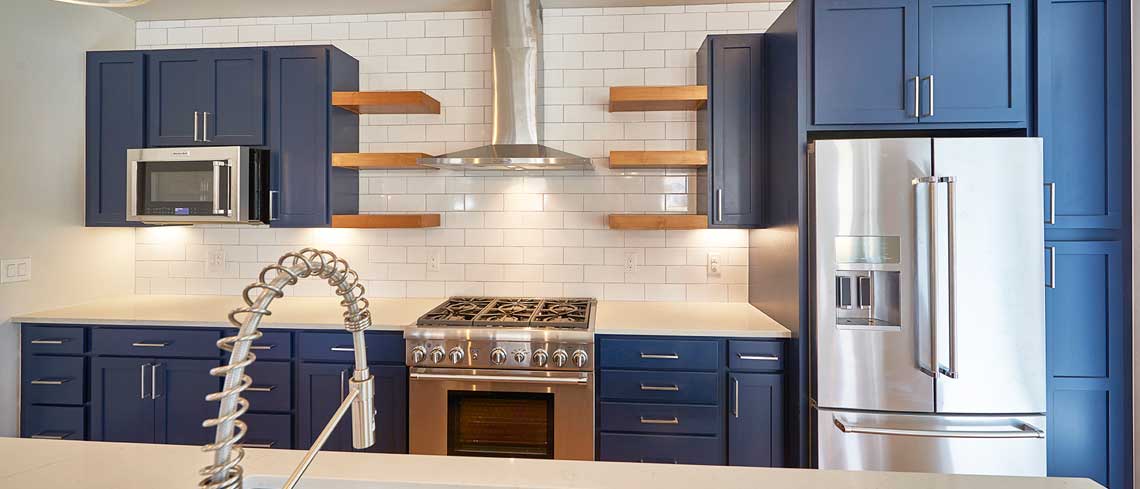 Glamorous Dark Finishes
For more than a decade, dark kitchen cabinets in a range of deep, rich hues has been gaining popularity. Tones ranging from black kitchen cabinets to dark blue kitchen cabinets and mocha browns to cherry kitchen cabinets are all being used to add formality, richness & depth to kitchens, giving them more versatility as entertainment & dining areas. Best of all, these tones have lasting style that can be refreshed by simply updating hardware, giving your dark kitchen cabinets excellent resale value.
Darker cabinets stand out beautifully when used in spaces that feature lighter décor, whether that be paint, countertops, floors, or backsplash. These lighter surfaces reflect light, expanding the feel of a space and balancing out darker shades. Be especially mindful of dark finishes in larger kitchens – too much dark surface can come off too strong in a design. You can introduce smaller amounts of dark cabinetry through accent pieces to avoid overdoing it.
If you're unsure how to strike a balance between your custom cabinets & the rest of your kitchen's décor, work with the designers in our Albuquerque or Santa Fe showrooms to create a plan that works best for your tastes.
Open Shelving
While open shelves are not a new trend, they are a time-tested one. This can be a great option to incorporate alongside closed kitchen base cabinets or kitchen island cabinets for some fresh, modern vibes. You can also experiment with removing cabinet doors rather than replacing them with true open shelves.
Open shelving can fill odd, unusable spaces to create unique storage solutions for your collectibles or kitchen items that you want to always have visible & on-hand, either for you or your guests.