Floating Vanities
You may have seen this trend gaining popularity recently, and it's finally making its way into home design. One of the best things about having your bathroom cabinets in a floating vanity is that you can adjust the height as needed. You also get more open space, which is key in a small bathroom. Sleek and stylish, the floor seems to extend forever beneath floating bathroom vanity cabinets. If you match your bathroom sink cabinets or vanity to the wall, it can look just like a natural extension of that wall.
Concerned about the storage capacity of these modern bathroom cabinets? Designs vary, but many of them have ample storage below – and your bathroom will only look bigger despite it!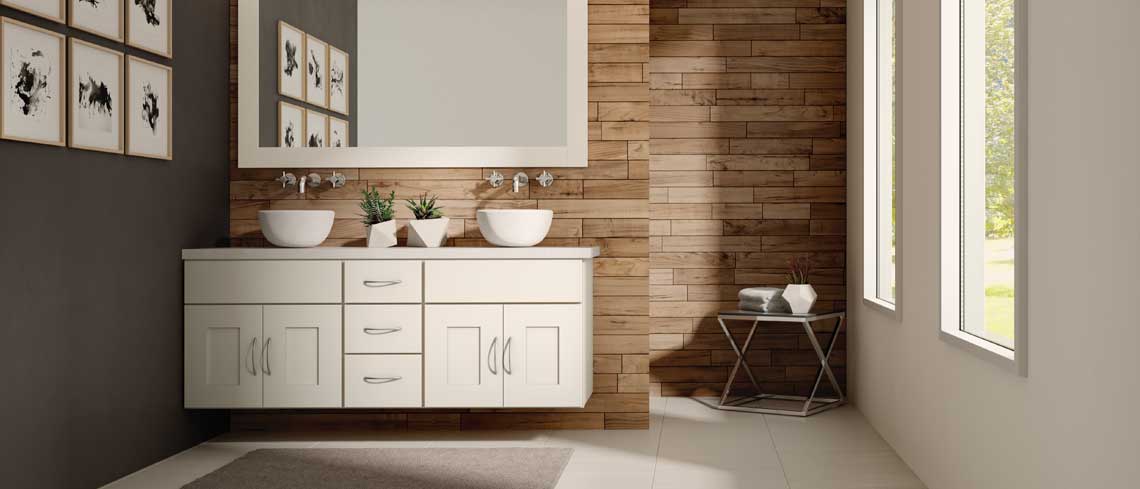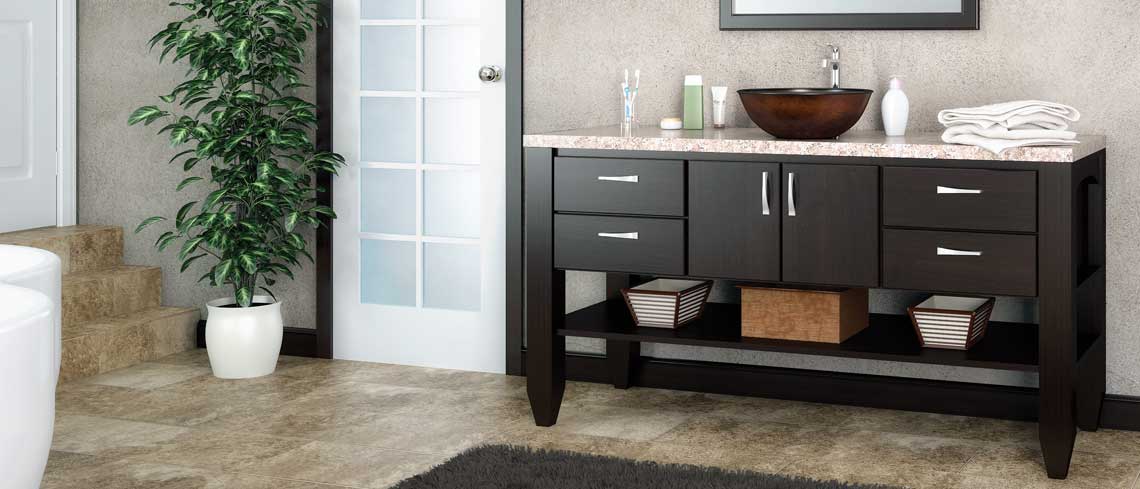 Dark Finishes
In recent years, we've seen many homeowners gravitate toward darker colors for their bathroom wall cabinet or vanity selections. Black darker greens & gray bathroom cabinets, dark woods such as cherry cabinets, navy blues and more have begun to dominate the bathroom. You can also incorporate dark tones in your other surfaces such as backsplashes, shelving or mirror profiles. For your bathroom countertop cabinets, choose a dark tone for either the cabinet itself or the countertop surface. There are so many ways to add beautiful accent colors to your custom cabinets or overall bathroom design.
Open Shelving
A growing trend for several years, open shelving has become popular for both the style & space it creates. Open shelves can make even your smallest space look inviting, luxurious, and even spa-like.
For all of these reasons, many homeowners are now choosing vanities with an open shelf or shelves at the bottom. Others are adding extra open shelving on walls. Either approach lends itself to the look of farmhouse or shaker cabinets, which can pair well in a combination of both closed cabinets & open storage spaces.