Is Quartz the Best Material For Kitchen Countertops?
Whether you're remodeling your kitchen or building a new one, choosing the right material for your countertops is one of the most critical and exciting parts of the process. If you want a durable surface for cooking, eating and entertaining, engineered quartz kitchen countertops are rising in popularity for good reason.
Quartz offers better durability, scratch resistance and stain resistance than all the other major natural stone surfaces. It isn't easily cracked, scratched or chipped. Quartz countertops are non-porous, so germs & bacteria can't make their way beneath the surface. This means they never need to be sealed and makes them easy to clean. Most manufacturers are so confident in its abilities that they offer generous warranties.
You also have access to an unlimited variety of designs with quarts. Pigments and other materials can be added to create any color or pattern you might want—even some that look like natural stone.
You may find that quartz countertops cost slightly more than other natural stone materials, but the time and money you'll save on maintenance more than makes up for the cost.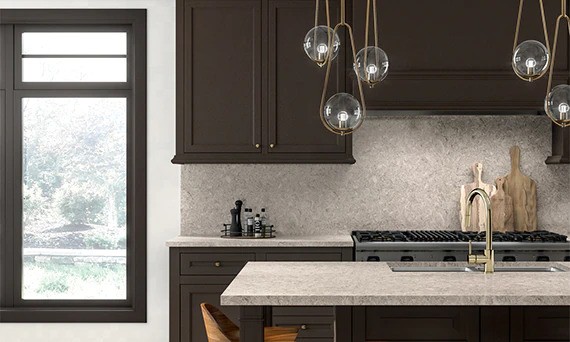 Quartz Kitchen Countertop Colors
A quartz countertop can be the perfect accent for your kitchen, and you'll find many colors available at Raby Home Solutions to suit any décor style. Engineered quartz countertops are manmade, so they can be designed in any color. The most popular options are neutrals such as white quartz kitchen countertops, black, beige, grey and brown. These surfaces can be made to replicate the looks of different types of natural stone.
White engineered quartz countertops have been increasingly popular in contemporary kitchen design, in part because of the brightness they bring to a room. Light quartz countertops reflect light, making your kitchen feel larger and more spacious. They also pair well with any kitchen cabinet color, dark or light.
With so many color options, it may be difficult to narrow your options. Our team here at Raby Home Solutions is here to guide you through the many colors, patterns and finishes we have available.
Explore Your Quartz Kitchen Countertop Options

Bellingham

Brittanicca

Whitendale

Axebridge