Highly Compact & Versatile Laundry Spaces
Modern laundry room cabinets are, more than ever, being crafted with a desire for minimalism and simple lines. Each cabinet is designed with versatility in mind, with individual pieces of furniture able to convert, retract, pull out or fold. Other convenient storage elements such as hanging areas and shelving are often integrated into custom cabinets.
Create cabinet space in your laundry room for linen baskets, detergents, washing machines & other household necessities when you create custom cabinets near Albuquerque or Santa Fe, NM here at Raby Home Solutions.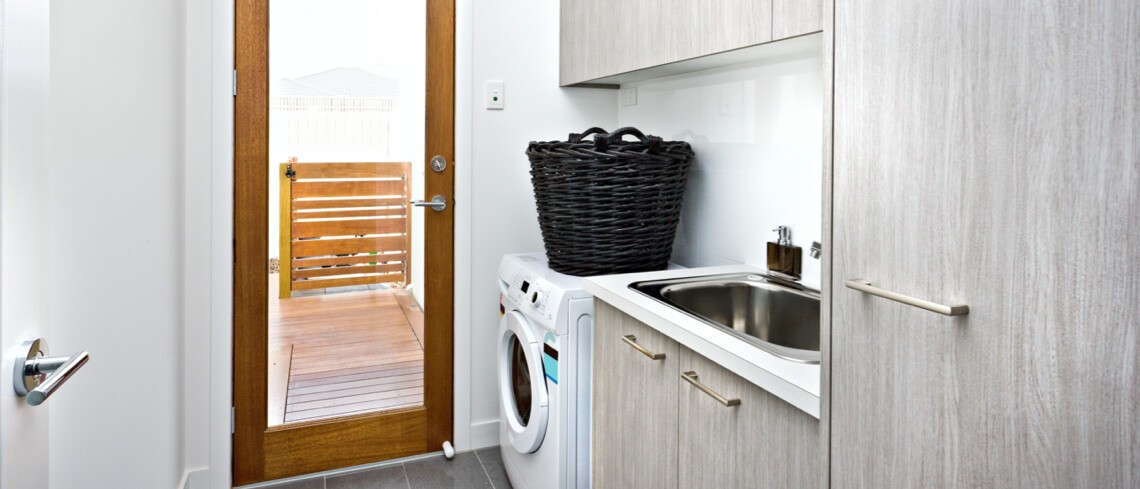 Naturals & Neutrals
Two visual trends are taking over in laundry room design – natural hues and neutral tones.
Natural wood laundry room cabinets can create a sense of pristine calm in a space. Popular wood species for cabinets include maple, cherry & oak cabinets, all of which pair well with natural stone floors and wall accents for a look that can connect you with nature and which involves minimal processing or environmental impact to manufacture. Add gray-blues or mint greens to your wall or cabinet paint, mosaic tile, or area rugs to further explore that idea of calmness, serenity, and soft warmth or coolness, depending on the tones you choose.
Other trending laundry room colors include neutrals like black, white and silver. The contrast between light furniture & black appliances can give your entire laundry room a bit of a glamorous appeal. Pair that with metal handles & other finishing hardware elements on your cabinets and you have a stylish range on your hands.