Custom Cabinets
If you can draw it, we can build it.

Raby Home Solutions works with one of the top names in cabinetry, StarMark, to provide you with a completely customized experience. StarMark cabinets aren't simply punched out of wood and stored in a warehouse somewhere - each product is made by hand, one at a time, according to exact specifications that you provide. These are the cabinets of your dreams.
HANDCRAFTED QUALITY
AFFORDABLE QUALITY
WARRANTY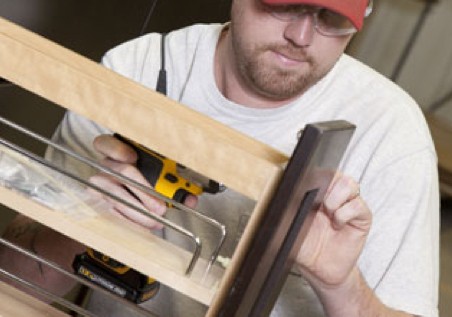 Hand crafted, artistic outlooks. Invested in the results.
With a little elbow grease and an eye for artistic design, the cabinetmakers at StarMark are truly invested in their craft. They reject components that aren't good enough, and every piece of cabinetry is handled by a human being.
All doors are assembled and sanded by hand to ensure that joints are tight, colors are accurate and decorative trims and moldings are smartly aligned. All cabinetry is hand-stained, hand-glazed, hand-wiped and hand-distressed to precisely define every detail you request.

PERSONALIZE YOUR CABINETRY
Door and Drawer Options
Perhaps the biggest decision to make is the style of doors and drawers you will use in your cabinet design. Luckily, we have options.
Custom Cabinets
Craft your countertops from the ground up to create a design that is completely unique to you!
Customize your colors
Choose every aspect of your new cabinets, right down to the color, so you can bring your dream design to life!