Hardwood flooring has long been the preferred choice for authentic, natural flooring in the home. The classic warm and traditional hardwood looks have been joined by trendy, smoky greys, whites, and darker planks along with a variety of hand-worn textures and styles. If you're considering hardwood flooring for your home, we've got the knowledge you need to make an informed decision.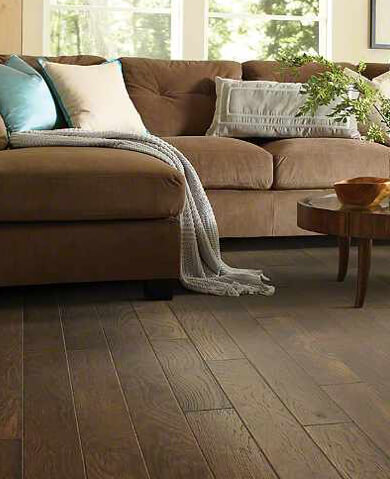 Hardwood consists of planks of real wood from a variety of tree species including oak, maple, birch, mahogany, and dozens more. Planks typically fit together with grooved joints and can be made from either solid pieces of wood or layers of different wood materials. The latter type is known as engineered hardwood, which can be installed in a wider variety of rooms on every grade. Hardwood is advantageous because it can be sanded and refinished, it can last for many decades, and it offers a solid and stable feel underfoot. Hardwood flooring can be a little costlier than some other popular flooring types, but the cost is worth it if you take good care of your floors. Hardwood flooring is truly an investment in the beauty and overall resale value of your home!
Which one best suits you?
Hardwood strips
Hardwood strips are the tradition. These are narrow planks that are typically under three inches wide.
Hardwood planks
Plank flooring creates a trendy and casual look using planks that are wider than three inches.
Parquet
Parquet flooring is a style of installation involving geometric, nonlinear designs..
Mon To sat
9:00 AM - 6:00 PM

rabyhome.com. All Rights Reserved.
All content and images are the property of rabyhome.com and may not be reproduced or used in any way without the written consent of the owner.